Our story
The plastics that have been produced is here for good. A plastic bottle takes at least 450 years to disappear and we haven't discovered yet a way to dissolve it faster on a large scale.
Recycling is part of the answer to this environmental crisis.  Even if it does not solve all the issues, at the least it helps in reducing the amount of virgin plastic being produced.


Unfortunately, recycling activities have their own downsides.
• They are usually industrial sized hence preventing small communities and remote villages to be a part of it.
• They tend to focus on collection and too little on transformation which leads to massive plastic waste stock left over.
It happens that at TingTang Design we use 3D printers extensively for prototyping and for small scale production.
• 3D printers are very versatile, easy to maintain and fairly inexpensive machines.
• You can produce locally so you do not have to depend on anyone and you can save time and money from shipping.
We thought by leveraging this principles we could implement an inexpensive and reliable process to transform, on site, the plastic waste into a valuable product. That would drastically improve local recycling activities and reduce the existing stocks.
And we believe such accomplishment possible…
Our solution
The raw material for 3D printing is plastic filament. The principle is simple. The filament goes through a hot nozzle that melt it while following a 3D mock-up.
So at TingTang we see left-over plastic not as a waste but rather than a gigantic opportunity of free resource.
PET, the type of plastic in which a water bottle is made, is actually used for 3D printing for its remarkable properties, such as high strength and durability.
Our ambition is to propose a robust solution embedding technology and training, that will help, everywhere possible, turning plastic waste into 3D printer filament.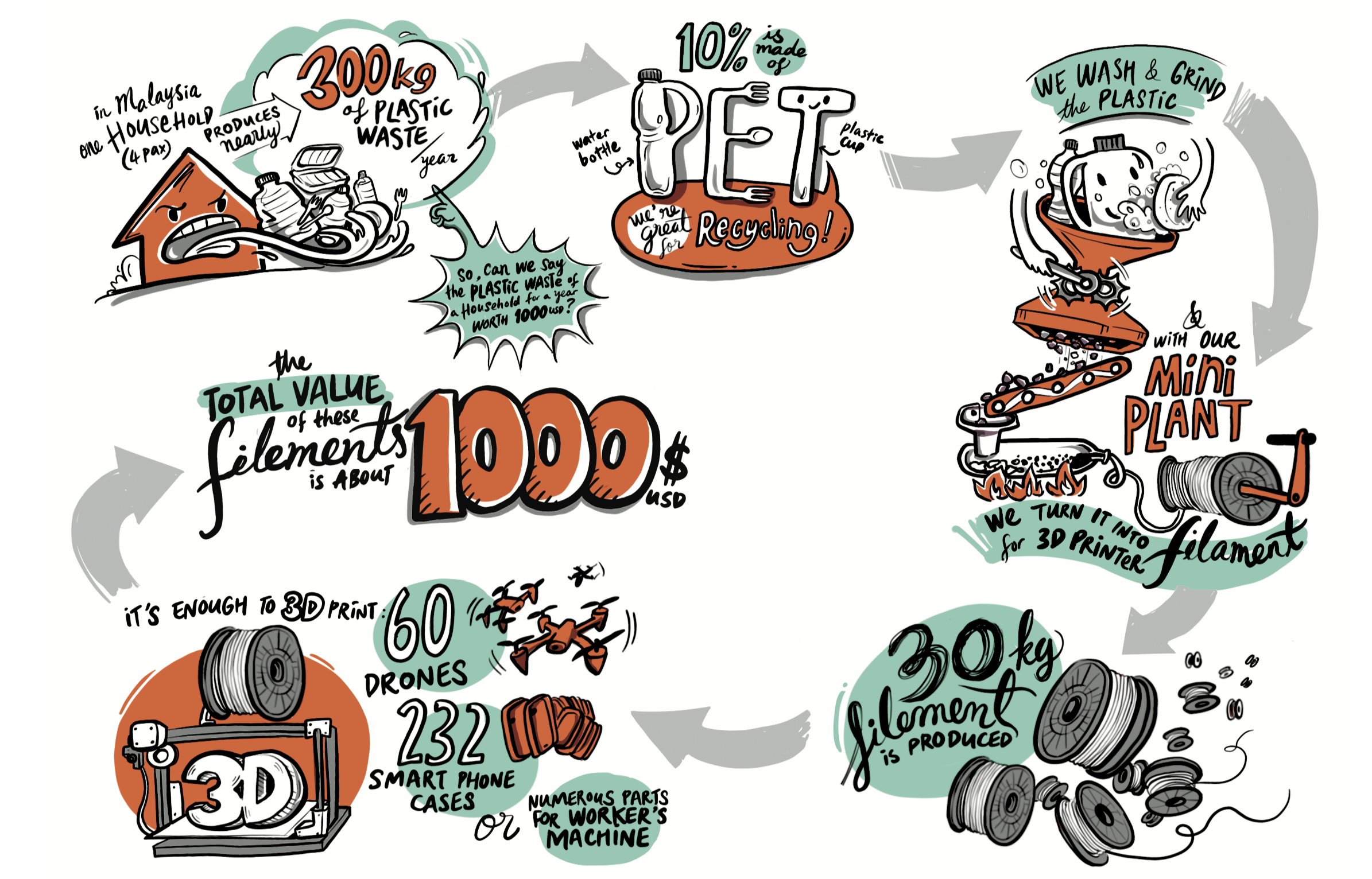 This filament can then be sold (the average price is about 30USD / kg) or easily be used to create items for everyday life such as parts for workers and toys for kids.
it can be sold or to be used to create parts for workers and toys for kids.
Our plan
— Phase 1 —
Project launch: 6 months
-Acquisition of the recycling plant.
-Mastering the technology until consistently producing high quality filament.
– Organising and securing the plastic waste collection.
— Phase 2 —
Expend the experimentation: 1 year
If we want to have a substantial impact we need to get more people and organisations involved in order to collect thousands of plastic bottles.
-Starting the 'Plastic for makers' program where you can convert your plastic waste into time credit to be spent in TingTang's makerspace.
-Increase the number of partnership and the amount of plastic collected.
-Start selling the recycled filament produced for the project to start being self-sufficient.
— Phase 3 —
Disseminate
Now that we have acquired the experience we are able to train people 
and set-up more recycling lines wherever needed.
– With our partners, identify areas where such project may be relevant.
-Train local project manager.
– Implement more plants and secure the follow-up.
TingTang Design is a fairly young and small company but we want to do our part. Unfortunately being energetic, innovative and committed is not always enough and we won't succeed on our own.
We need funds
We need funds to kick-off the project. If TingTang is providing the space and ressources, we need help to purchase the first recycling plant. We have estimated the total cost of this first phase atMYR 50,000.
We guarantee that your donation will only finance the recycling project by:
• A dedicated account so everything is transparent.
• A monthly financial statement and a bi-annual presentation on the project status.
We need contacts
•To collect maximum amount of plastic waste: It could be NGOs, schools or communities. There is a lot of isolated initiatives out there focusing on different part of the puzzle that need to be connected.
•To prepare the expansion of the local recycling plant:
Once the concept is proven right, our ambition is to implement new plants in villages and communities. We believe it can be a sustainable business but here again we need help to identify the right place and the right person to work with.
Download our Pdf presentation here
What we offer
What we offer
For all contributions:
– We will display your logo or your name (if you wish) on our website.
– We offer 1 hours usage at our maker space.
For contributions over 500USD:
– We will display your logo or your name (if you wish) on our publication and printed material related to our recycling project.
– We will print your logo or your name with recycled plastic filament at 50cm high.
– We offer 20 hours usage at our maker space for all members of your organisation.