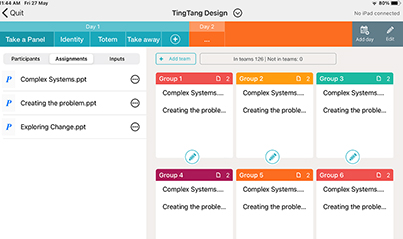 Hello everyone!
The Workshop application which allows you to digitize all your seminar inputs and outputs is now reborn. We have been working over a year on a complete overhaul of the application with a release scheduled very soon.
What will you find in this new version?
– No more local wifi network installation: Simply connect the iPads to the internet network to exchange your files.
– No more connection to iTunes: You will find your documents directly in the application connected to your Cloud service (Dropbox, GoogleDrive, Amazon etc.).
– The history of your sessions: You can work on several sessions in parallel and easily switch between them.
– Sharing your session in one click: At the end of your seminar you can share all the files (Team list, Assignment, Input, Synthesis etc.), carefully named, in one click on any platform (WhatsApp, Slack, email etc.).
– And as always Team Lists are easier than ever, your report in the plenary is greatly improved, the application allows the participant to revisit any input or output shared during the session, and so on.
We are looking for beta testers so feel free to send me a message or leave a comment if you are interested.
Hope to hear from you soon!