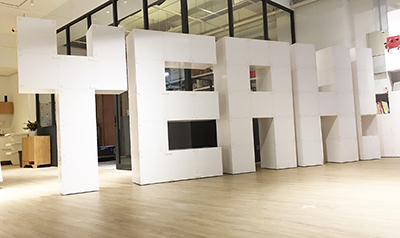 Hello everyone;
Here is our fourth build and this time it is giant letters. YEAH!
During workshop, we often need to build big signage or large sculptures, so that they are visible from afar and not only by the first row.
Even though the Tetrix cubes are magnetic, the bonding force was not enough for large construction. Multiple cubes couldn't stand above the void, for example.
To remedy the situation, we have created the connector that allows you to firmly connect two cubes. By multiplying those connectors, your structure becomes really stiff so you can go for higher and more complex shapes.
The connector is already on sale – check out our online store