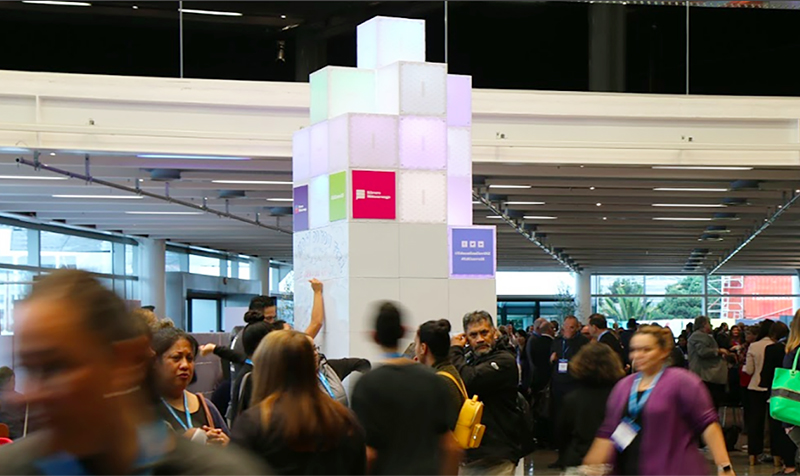 Every 30 years New-Zealanders stop for a while and take a time, as a nation, to reflect on their education system. 2018 was one of those rare milestones, starting point of new ambitions. And we have been lucky enough to be part of it.
Led by the Minister of Education a nation-wide consultation has been organised inviting all the communities to express their convictions on the future of education. The subject was not only kids scholarship but rather the education as a life-long project with no consideration of age, gender or race.
This ambitious 1-year project started with 2 very large quick-of sessions. New Zealanders from all walks of life have been invited to initiate the debate and create momentum before coming-back to their communities and spread the words.
Openfield was in charge of designing and delivering the two sessions. We have been involved in this amazing project since the very beginning – thank you for trusting us again.
---
Organising events of this scale comes with its own set of challenges:
– The venues were extremely wide (the first one was an Arena!), cold and inhospitable. We needed to frame the space in order to create a welcoming experience and keep the participants energy condensed.
– We wanted the 800 participants to engage actively, work, sketch and share their thoughts and outcomes. We had to find a solution avoiding multiple furniture in order to save cost and improve modularity.
– Finally we wanted this important milestone to be memorable. With the constraint of having so many people we couldn't create a human size experience. It would have been hidden by the first row. It had to be big and tall enough to be seen from all.
To overcome these 3 challenges we brought in 1000 Tetrix cubes and 100 iPads with the Workshop application installed.

→ Shape the space.
It has been decided in order to maximise the level of discussion to divide the venue into 4 independent spaces. Each area was delimited by elegant partitions made of cubes. For the entrance we created large doors, framed with colorful drawings. Framing the venue drastically improved the overall experience from orientation to energy retention.
The cubes gave us great freedom of creation as we were able to build almost any kind of shape anywhere.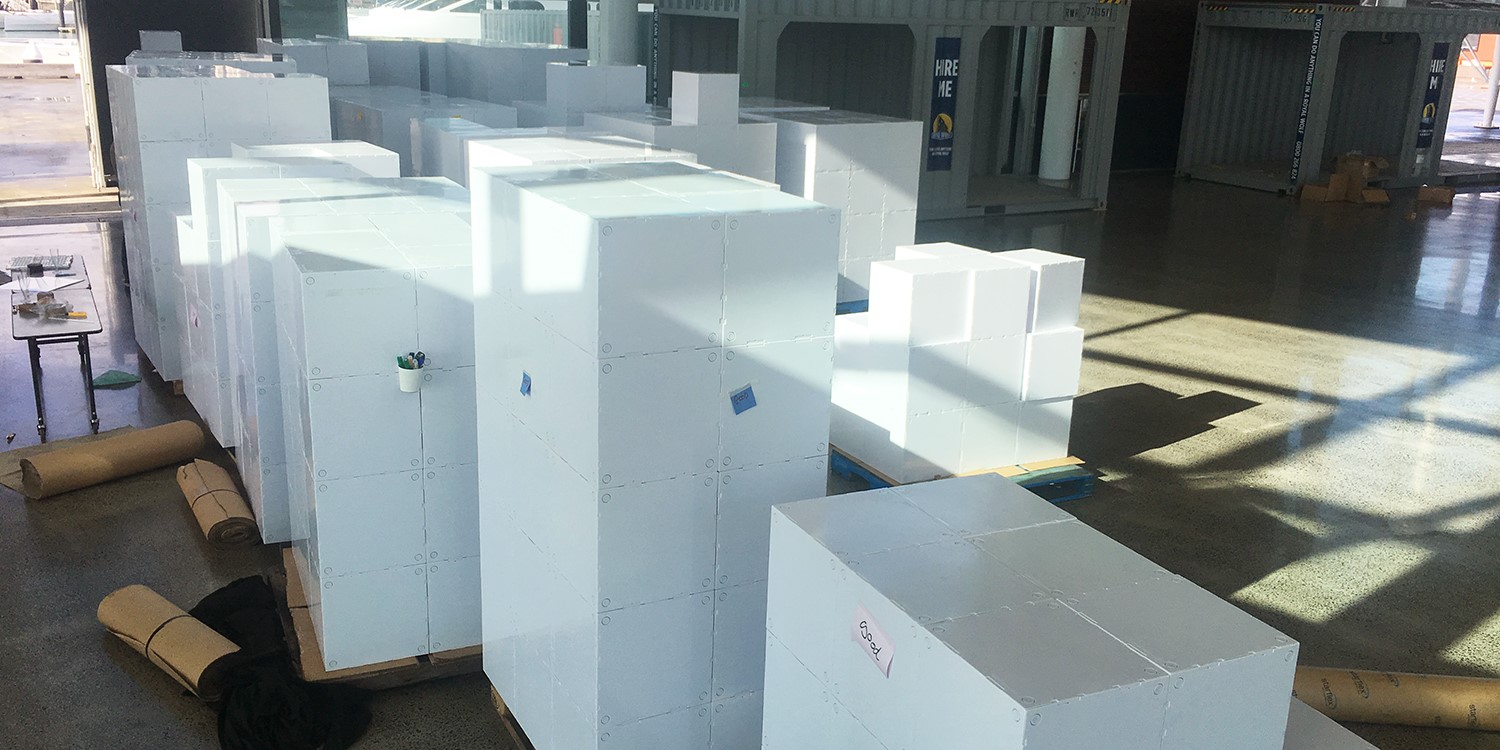 The cubes arrived on pallets the day before the session started. Moving the pallets where the cubes were the most needed saved the team a lot of time and energy.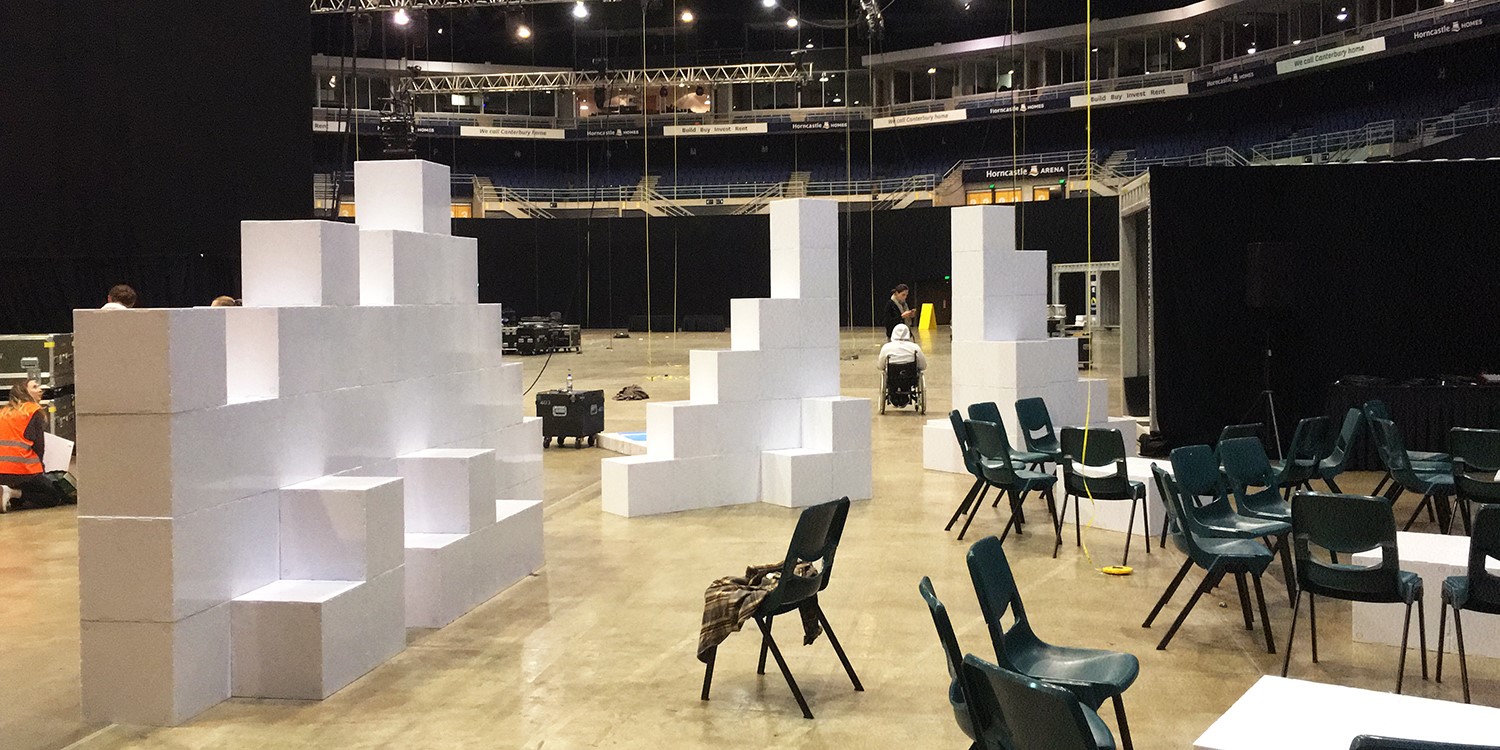 The divisions are rising.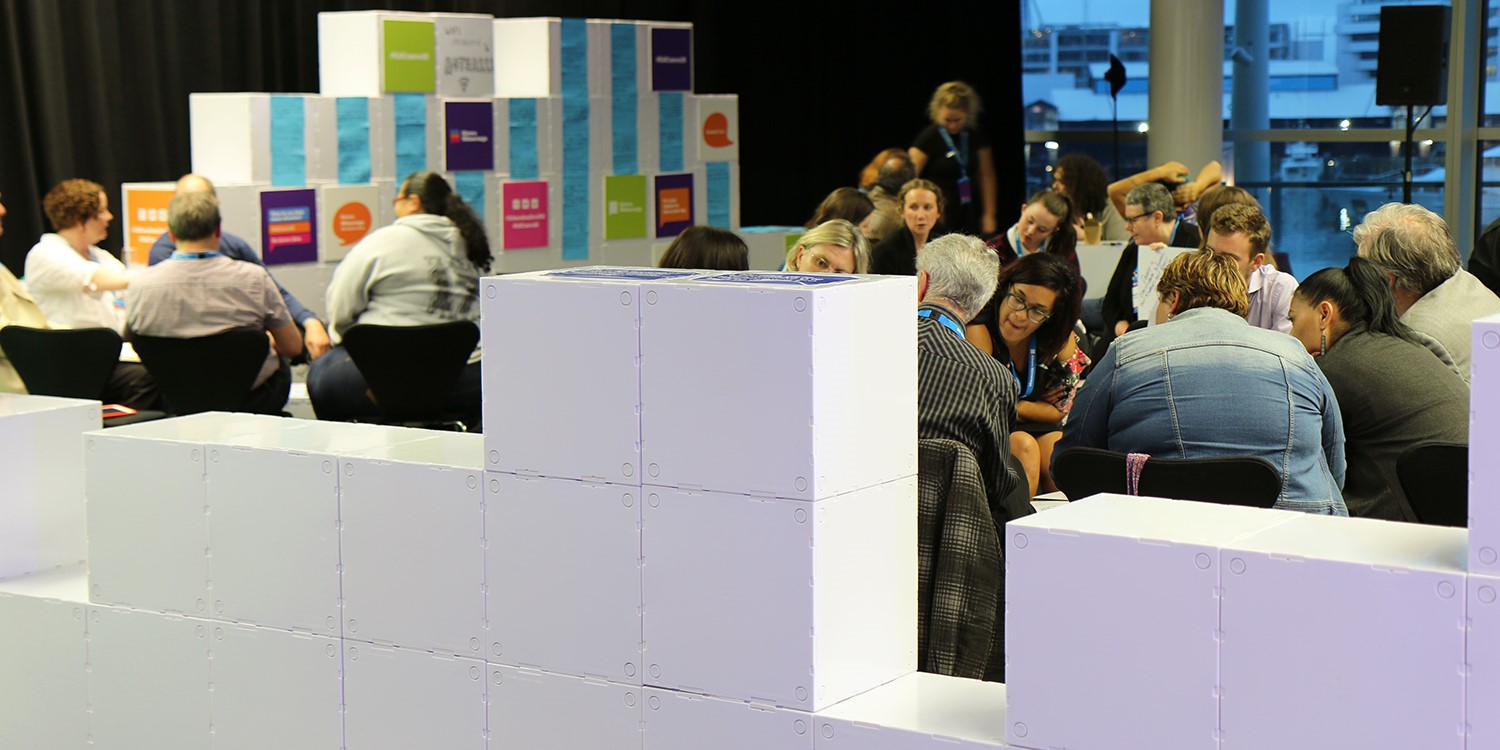 One area delimited by cubes partition. We can see at the back the partitions are also used for display purposes.

→ Collaborative tools
Our goals for the 2 sessions were to provide the same level of collaboration as usual (despite the large number of people) and not compromise with our ecological principles (we are always very careful on waste and deliver as often as possible paperless events).
The participants worked by small group of 6 to 8 persons to maximise the exchanges. Each group have been given a whiteboard table and 1 iPad.The whiteboard table brings many benefits. By sitting around at the same level everyone can grab a pen and start sketching anytime. It breaks the old pattern of somebody having to stand up to take the notes for the group. We chose to create small tables (two cubes only) to get the participants closer to each other. It prevented them from speaking too loudly and keep the energy condensed.
The groups were receiving their assignments on the iPad. With the Workshop application, all the contents created by the groups were shared real time on the iPads.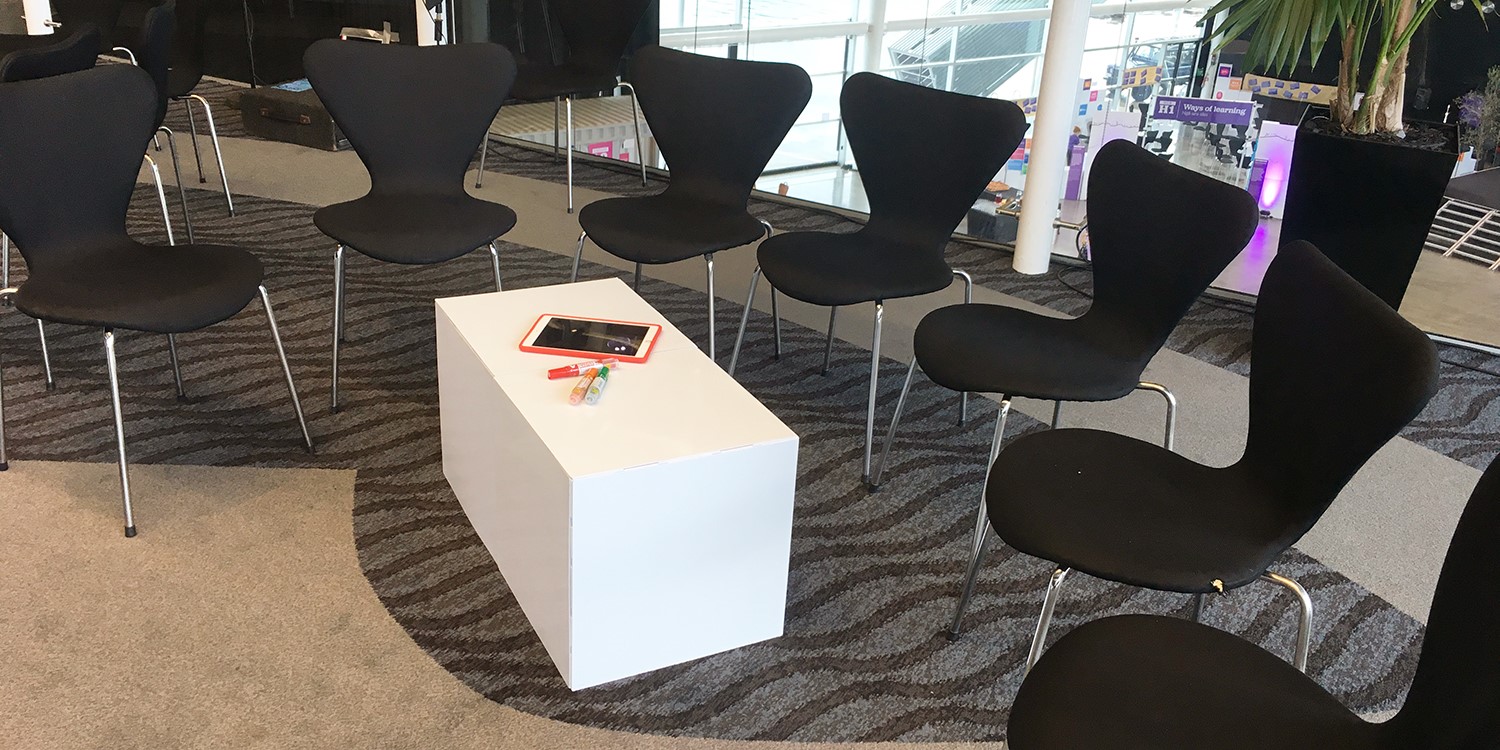 A group set-up: seven participants for a two-cubes whiteboard table and one iPad.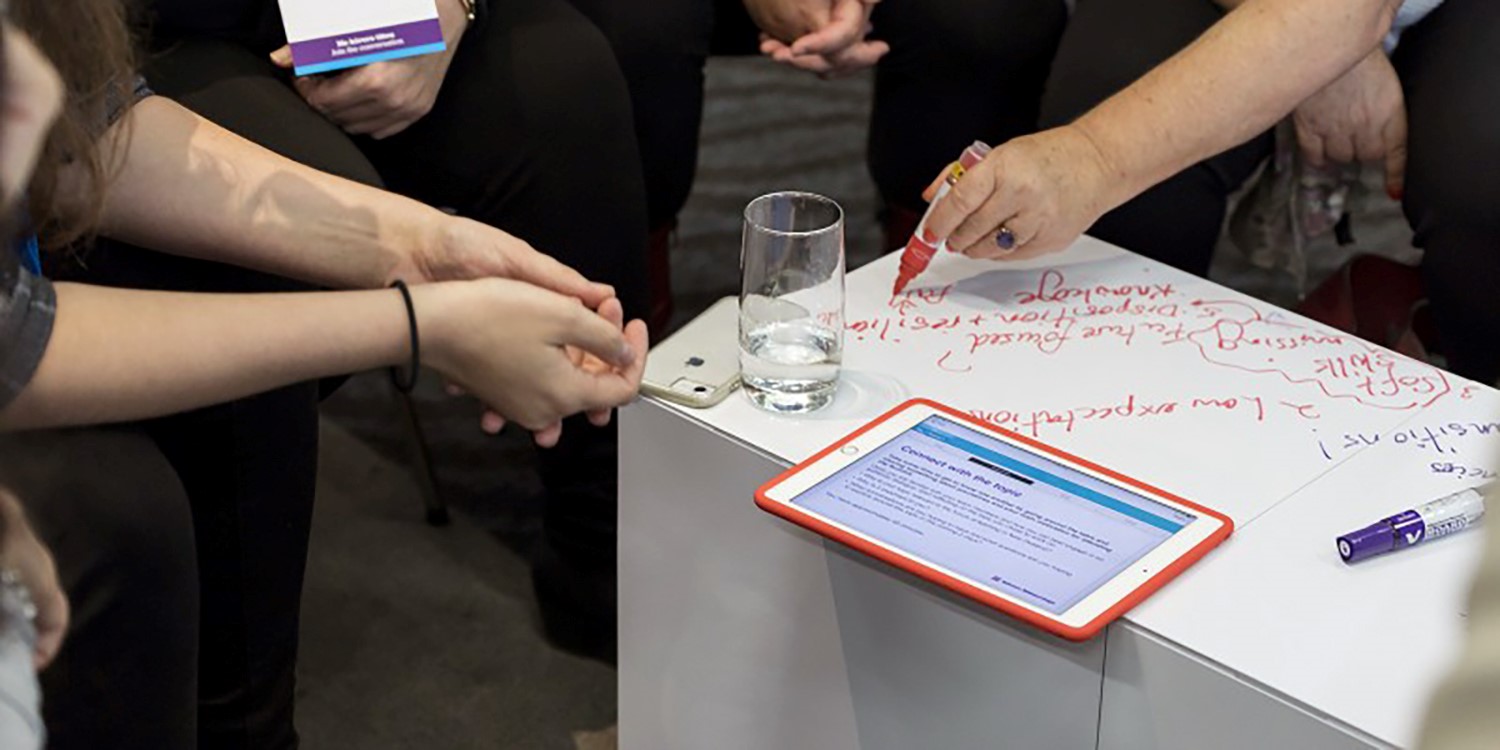 Participant sketching on a whiteboard table with an iPad displaying the assignment.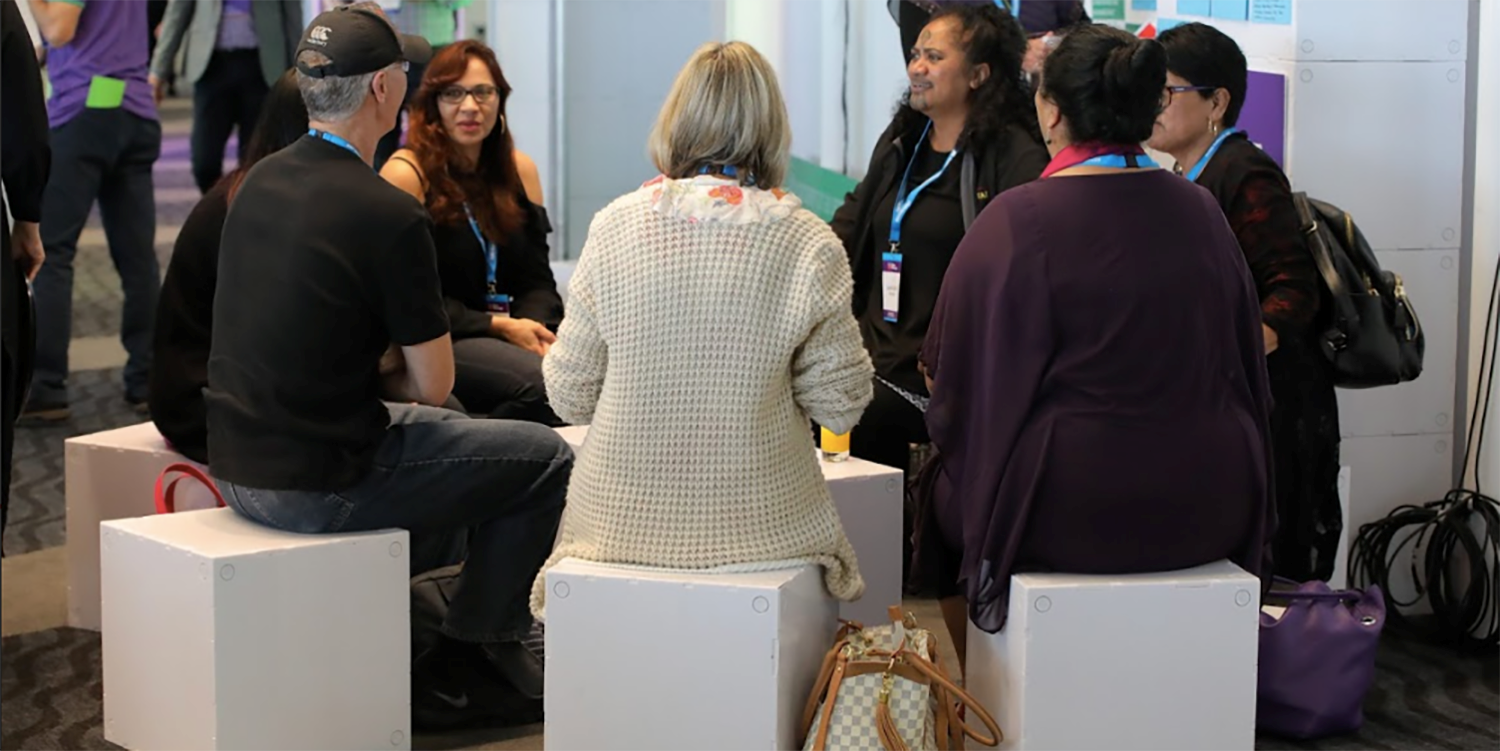 A few participants made their own space. A perfect example of how the cubes reinforce autonomy and engagement.
We used also the cube in several ways during the event proving the versatility of the cubes.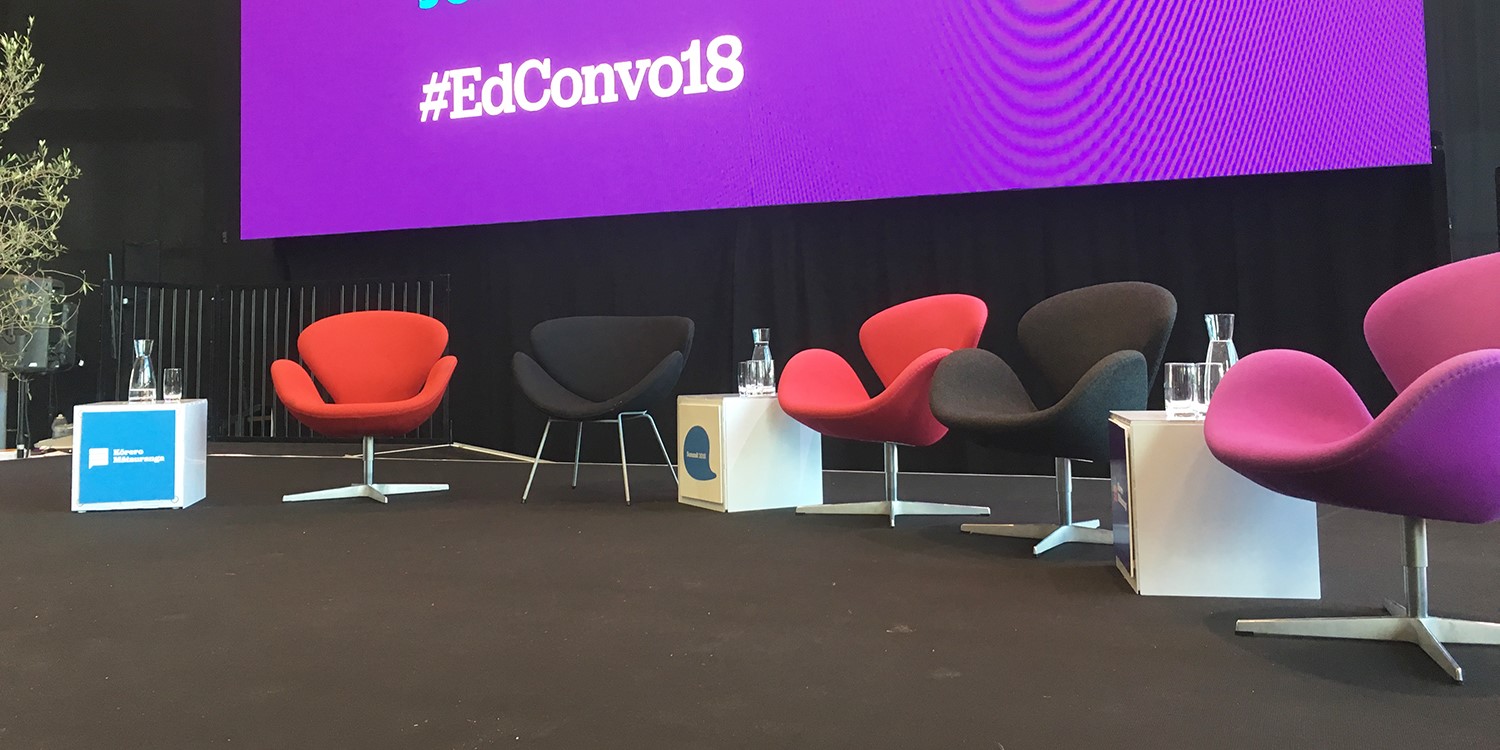 They have been 'coffee table' on stage.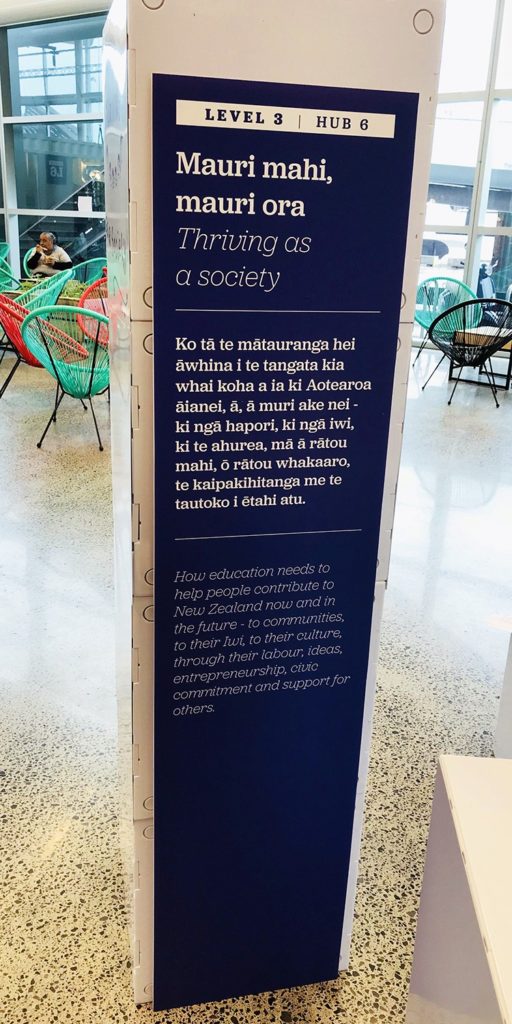 Information poles throughout in the space.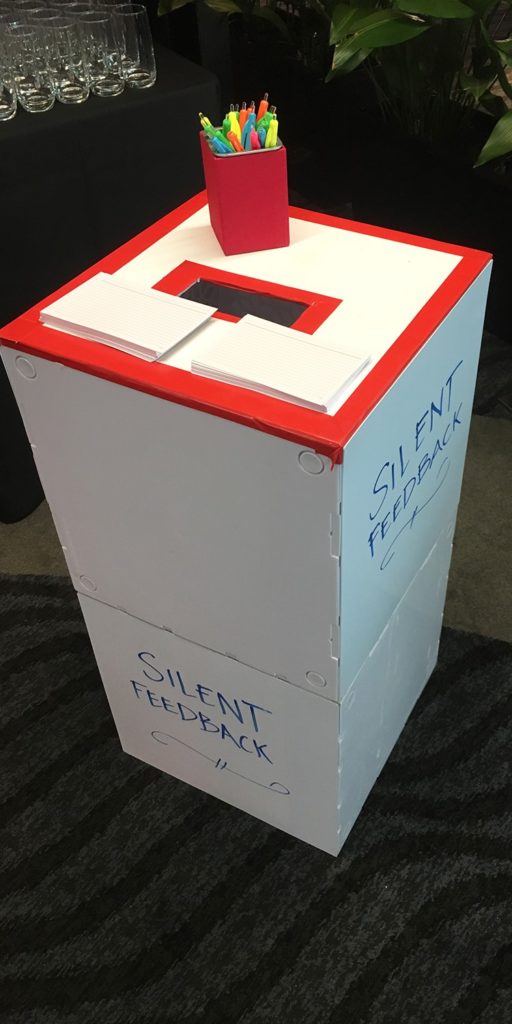 As well feed-back box.

→ Say it loud
Emotional impact is always an important part of our workshop. But how to create a sensible experience for such a large crowd…?
We created 3 large sculptures serving different purposes:The first one was a very large 'knowledge' wall. A static support for visual content. In our case it has been used by the participants to give feed-back and leave messages. Usually a knowledge wall is only a few meters long. This one measured more than 10 meters long and up to 2.4 meters high.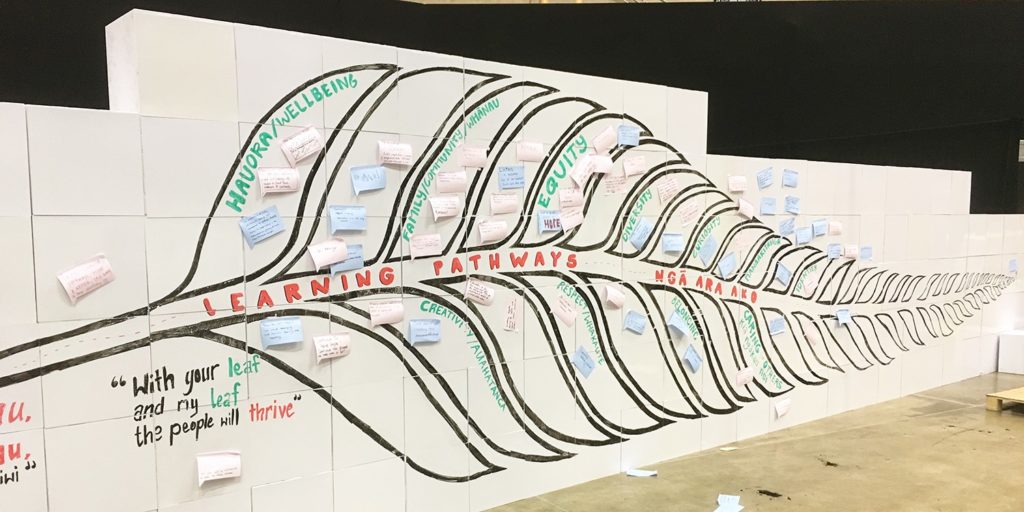 The second sculpture was a totem. Much smaller than the knowledge wall, it was placed at the center of the space. It was covered by participants' outcomes, thoughts and feed-back.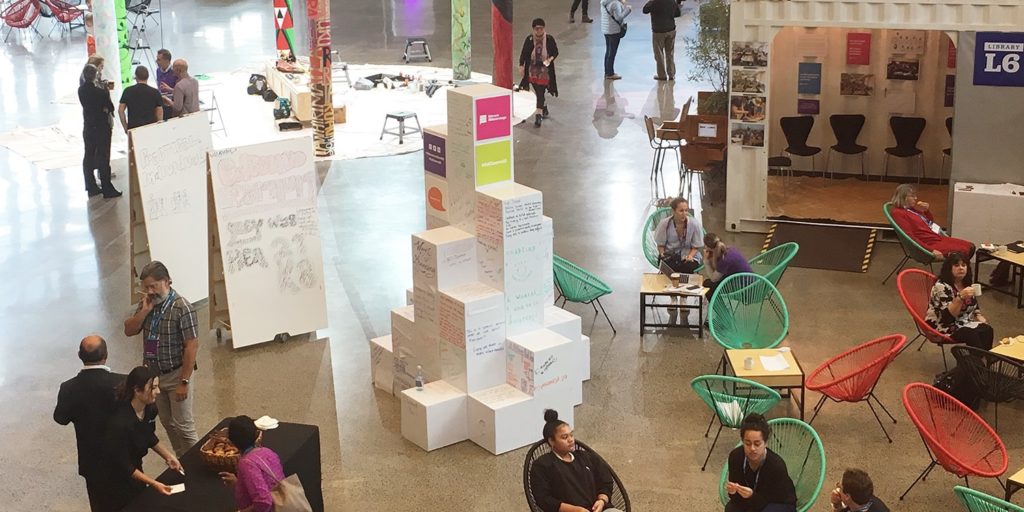 Our last sculpture was another totem called the lighthouse. 4m high, illuminated at the top, this is the highest sculpture we have created so far.
Our goal was to create a rally point, and an iconic element that everybody could remember once back home. We thought a lighthouse made sense. It would help our participants keep faith during their long journey of discussions and debates across the country.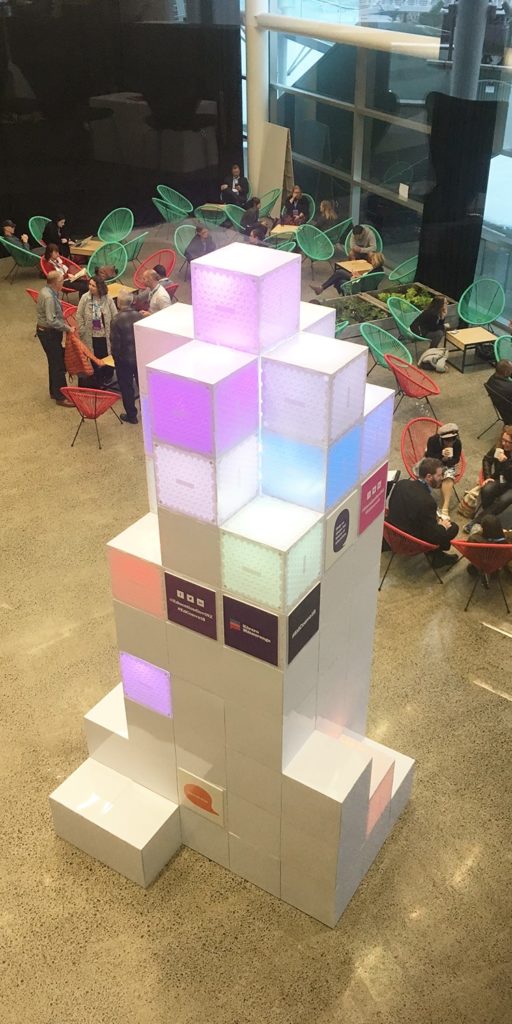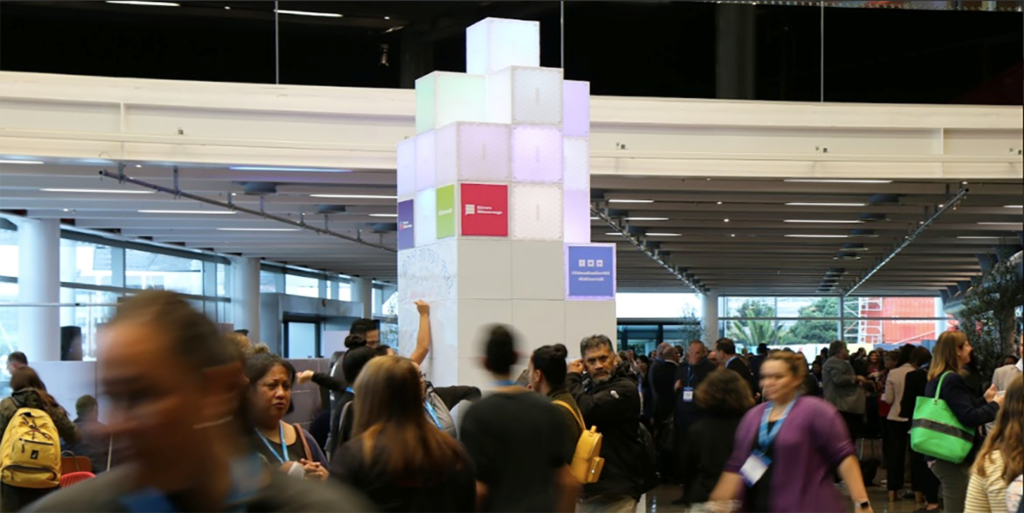 This project has been the most intimidating and exhilarating we have ever done.
Intimidating because we had a lot on our shoulders. Creating the wireless infrastructure for 2 sessions of 800 participants was at least challenging and bringing 1000 cubes in New-Zealand and moving them from city to city has been really exhausting – but we made it! Thank you CreativeHQ and Katy. It wouldn't have been possible without you. Exhilarating because we were surrounded by amazing people with great talent and animated by a great faith.
Those 2 sessions have been immensely successful, and we came back home filled with gratitude.
I wish we could do it again in 30 years! 😉