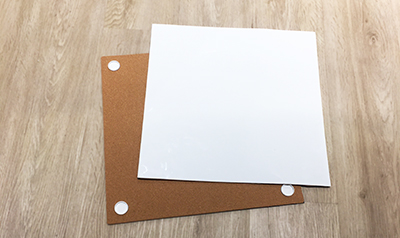 It has been a long process with a lot of trial and error, but finally here it is!
The new whiteboard tile for the Tetrix cube is available.
This new design fixes a few flaws our first version had. It was too fragile, too heavy and had a tendency to slide down from the cube.
This upgraded version is flexible and therefore do not fear dropping it. It is almost unbreakable! 😉
Its weight has also improved by 15%.
And finally, we have added 4 magnetic rings at the back that connect within the cube, so the tile is always perfectly aligned and can't slide anymore.
You can order you whiteboard tile here
0.8mm Whiteboard magnetic rubber on natural cork.
4 magnetic rings made of PLA (corn based bio-degradable plastic)