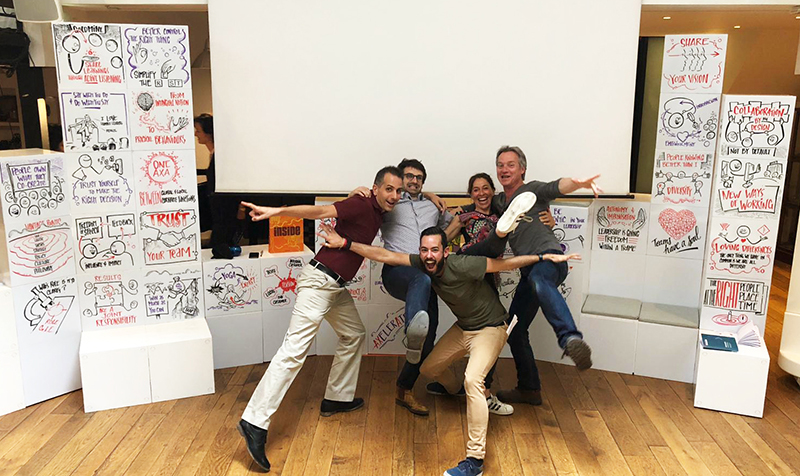 Hello dear facilitators;
The Tetrix cubes have been reveal almost a year ago now and we are happy to say that the answer has been very encouraging. Since our very first and giant session at 1000 cubes in New Zealand we have provided cubes for not less than 25 sessions around the world. Sydney, Paris, Barcelona, Vienna, Hamburg, Auckland, you name it. We've been everywhere.

A big thank you to all our customers for trusting us and believing in our modular concept.
A year is not just enough to judge on a new product but we've already learn a few things. The biggest takeaway is how well the cubes work with 'traditional' whiteboard wall.
When the cubes bring the extraordinary freedom of creation, allowing meaningful staging and powerful sculptures, the walls brings their ease of use and fast transition.
So it is very logically that we have decided to complete our offer.
We have purchased whiteboard walls for our Parisien warehouse (Moving Wall) and teamed-up with Broderix in Australia.
From now on our clients can benefit a consistent offer of cubes and whiteboard walls all across Europe, South-Est Asia and Australia.
Add to this great environment our digital solution Workshop and you can run any kind of collaborative workshop anywhere.
Hot news from Kuala Lumpur :
– We are teaming up with two great professionals here in Kuala Lumpur. Philippe Coullomb from OpenField and Sven Lefers just arrived from Sydney to start a new and bigger adventure here in Asia. More exciting news very soon.
– We are working really hard on a new version of our whiteboard tile. Should be ready for Christmas.
All the best
The TingTang Team