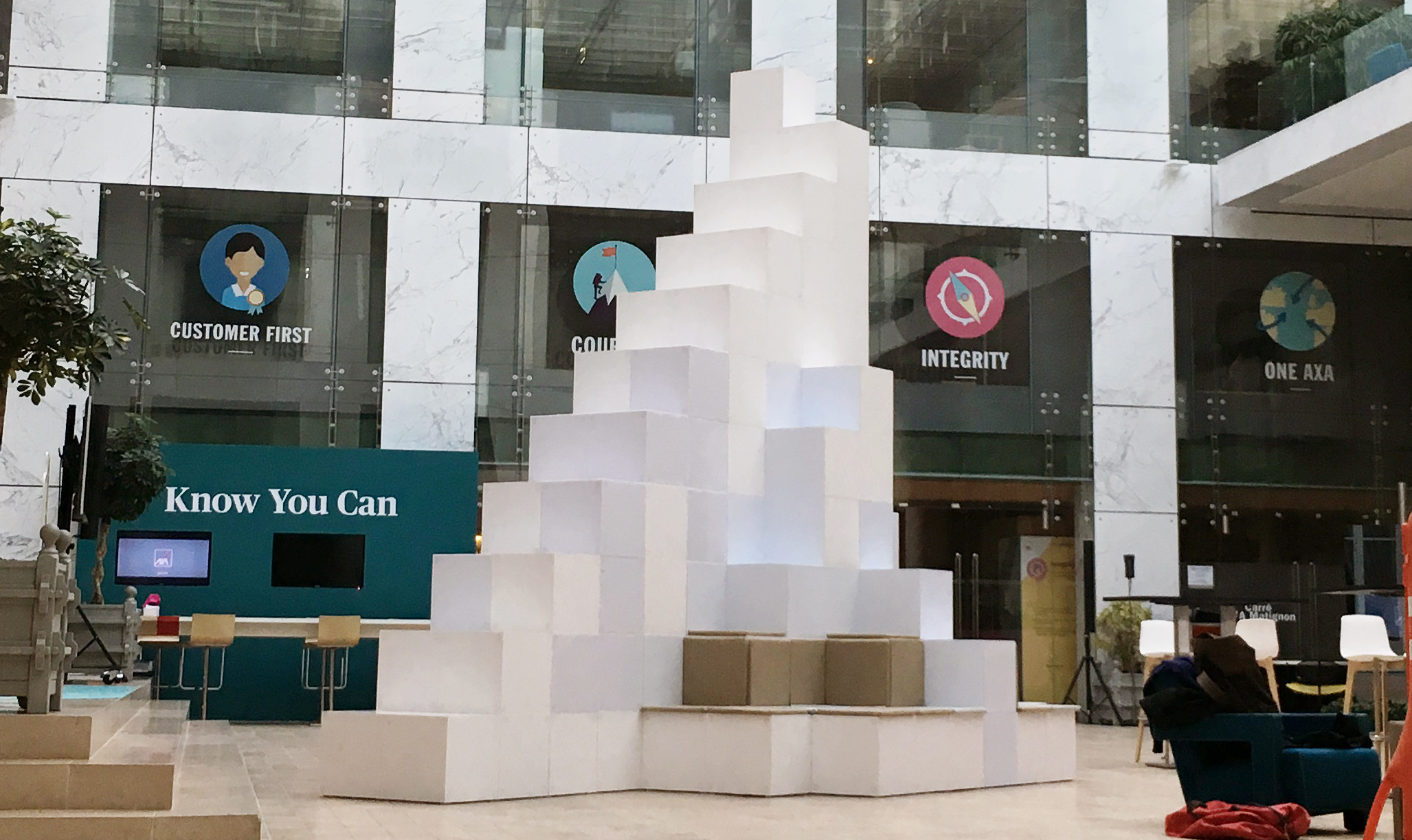 One of our clients came to us a few weeks ago, looking to create a memorable experience to celebrate the success of a year long training program. They had planned a full week of conferences at their headquarters, with everyone attending.
Here is what our team came up with – we thought it was worth a video.
The article below will look back at all steps of this project from our initial plan to the final result. We will unroll from the first 3D mockup to the end-result.
Our concept consisted of 200 Tetrix cubes to the headquarters of our client for a week, build a giant totem in the middle of their atrium and cover it with quotes and meaningful messages from the past conferences.
The totem would symbolise the celebration of the group after a year of training efforts. The high ceiling in the atrium allowed for great ambitions, so we planned to go up to 6 metres… enough to captivate the attention of any visitor entering the building.
Our early vision looked like this:
The client agreed to the project and we shortly we moved 200 cubes and their whiteboard tiles on site.
The structure was slowly gaining height and everything was going according to plan, when a shape emerged from the mass… A staircase.
– This is when we decided to change the plan –
Let's quickly step back and reflect on the context. The past year of training focused on managers and was very much around playing with the metaphors of ascending, 'climbing the mountain' as a team, pushing forward etc.
So when this giant staircase appeared, it reminded us of the theme with a slight difference. Because ou staircase was going nowhere it was an invitation to question the why. Why climbing? To go where?
Here is the building process in stop motion.
In order to enhance the full sculpture we worked with two talented scribers :
Arezki Moussi and Laurent Berset. They used the four days of the conference to extract the key messages and scribe it on the Tetrix cubes.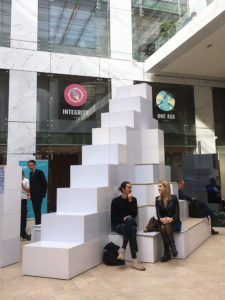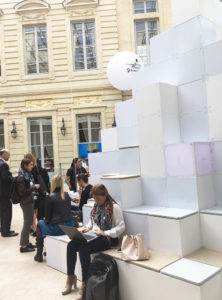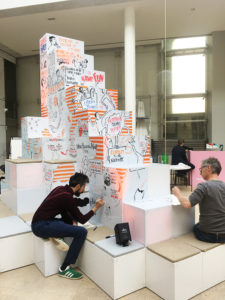 – credit –
The video has been created by Arezki Moussi – www.ollie-ship.com